Questions for Leading Conflict Resolution
Atif Rahim Khan, SPHR, contributed "Leaders in conflict situations - 10 Questions to ask yourself and your organization for leading conflict resolution." on November 16, 2012.
QuestionsForLiving: What questions did you ask yourself that led you to a career in leadership consulting?
Atif Khan: Once I led a simple exercise in my Leadership workshop where I asked people to identify their favorite current day leaders and their reasons for selection. Once every one had presented the ten names on their list I asked them why nobody mentioned the name of any person in the audience. After all the world is a very small place and people know one another, right? The silence that followed became a characteristic of this exercise every time I used it. It was very clear in those awkward moments that many of the people I helped under-lived the leadership opportunity that life presents and I asked myself why that might be so.
My research shows that what differentiates people who make it to the list of leaders compiled by others and those who don't is the ability to answer two basic questions. Through my leadership consulting work I help individuals cut through the distracting noise of their daily grind and find a satisfying leadership journey by answering those two powerful questions. The remarkable leadership transitions that they then make provide me cardinal satisfaction that I cannot find from any other career.
QFL: What are good questions to ask yourself and your organization for leading conflict resolution in the workplace?
Khan: Five good questions to ask yourself are the following:
What is it about this situation or the other party that makes me feel vulnerable and how can I make myself secure without engaging in conflict?

How am I intentionally or unintentionally making the other party feel vulnerable and how can I make them feel secure without engaging in conflict?

Is the other party acting up because that is the only way I will listen?

Is my internal conflict driving my external conflict?

Am I enjoying this conflict? Why, what gaps in my life is it filling?
Good questions to ask your organization are:
Is there equity and equality in the workplace?

Who is the workplace conflict audience and what are they encouraging?

Are the monetary and non-monetary rewards given by the organization encouraging conflict?

Is conflict in the workplace being promoted by ineffective conflict management and resolution methods that increase perceived vulnerability?

How disposable are the workplace relationships in my organization?

QFL: What is a core question that encourages or facilitates lasting organizational change?
Khan: An absolutely core question to ask is this:
In one word how should our customers consistently describe us?
Customers often sum up the experience of using an organization's services and products in a single word or phrase. So in any given organization the sum total of production and service delivery philosophies, policies, processes and practices work day and night so that the end customer can choose the right word to describe them. With the right word come growth, profits and respect. Conversely with internally fragmented and conflicting understanding of how customers currently perceive and describe the organization's output and should in the future it is difficult to chart a course for how the organization needs to change. Unanimity in answering this question will lead to reduced internal conflicts.
QFL: Other than specifically related to leadership consulting, what questions do you believe that people should/could ask themselves to make our world a happier and healthier place?
Khan: You get more when you give more. A good question to ask is, "How much can you afford to give yourself by giving to others?"

Atif can be contacted for questions and speaking engagements at: atif@khan.name
Atif Rahim Khan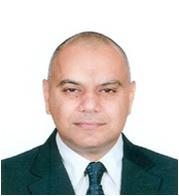 Bio

Atif Rahim Khan, SPHR leads the Centre for Capacity Building at the Sustainable Development Policy Institute as a Senior Capacity Building Specialist. He was one of just eight leaders from 53 countries selected to take part in the Commonwealth Foundation Leadership Exchange 2012 in India. He is an Adviser to the Commonwealth Foundation, UK amongst the only 3 representative leaders from Asia. He is also an Adviser to the Acumen Fund [USA] for their Fellows Program [Leadership Development]. Atif has an MBA in International Management from Thunderbird School of Global Management, the highest ranked International Business School in the US on dual scholarships with the opportunity to serve as the Institutional Advancement Chair twice. The Human Resources Certification Institute [HRCI, USA] has certified him as a Senior Professional in Human Resources [SPHR]. He is a member of the American Society for Training and Development [ASTD] and has completed a workshop offered by ASTD on Evaluating Leadership Development Programs. He has also completed a workshop offered by INSEAD, France on Managing Technological Innovation. He has co-trained in a Training of Trainers on Conflict Resolution and Mediation for Leaders organized by the United States Institute of Peace, Washington DC. Atif is a Leadership Expert at the Best Practice Institute, USA for their 42,000 plus global network of C-level executives, managers and leaders. His speaking experiences have taken him to Austria, Australia, India, Pakistan, UK and the US. He can be contacted for questions and speaking engagements by sending an email to: atif@khan.name