Benjamin Franklin
Question submitted January 11, 2007 by Mr. James Srodes
Benjamin Franklin's primary question which he asked throughout his professional, personal and political endeavors must have been:
How can I be of use to others and thereby benefit myself?
James Srodes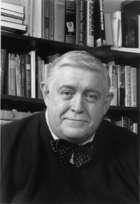 Bio

Franklin: The Essential Founding Father, the latest biography by author, journalist, and broadcaster James Srodes has been honored by the Free Library of Philadelphia and Mayor John Street. The book has been chosen for the One Book-One Philadelphia city-wide literacy promotion program for 2006. He and his wife Cecile, an attorney, live in Washington.
Homepage
http://www.jamessrodes.com/