Are You Serving--and Leading--Effectively in the 21st Century?
Dr. Martin Luther King's declaration has timeless resonance: "Everyone can be great, because everyone can serve."
In the 21st century, it can well be said: Everyone can lead--because everyone can serve.
In my study and practice of leadership, it has become increasingly clear that leadership is ultimately about service.
That may seem simple--but it's not necessarily easy.
It may sound aspirational--and it's also absolutely practical.
In our emerging age of universal transparency, being trustworthy--doing the right thing by others--is becoming the ultimate competitive advantage.
With an eye toward 21st century leadership development, the Serve to Lead® System is built on four questions:
Who Are You Serving?
How Can You Best Serve?
Are You Making Your Unique Contribution?
Are You Getting Better Every Day?
Properly understood and applied, these four questions can empower anyone to their greatest potential in serving--and leading--others. They can provide great value in analyzing any leadership relationship. They can be applied to clarify and enable you to perform effectively in the various tasks of leadership--including management and communication.
If you can honestly, passionately answer those four questions in a way you can be proud of--and which objective observers would find credible--you're on your way to making a significant contribution in your work and life.
And, in the new world of 21st century leadership, doing the right thing is the only way to sustainable competitive advantage and shared prosperity.
For more information regarding James Strock, please visit: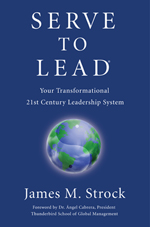 James Strock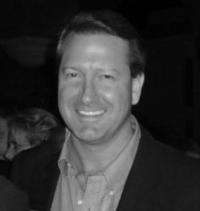 Bio

James Strock is a recognized authority and renowned speaker on the theory and practice of 21st century leadership. His Serve to Lead® System catalyzes extraordinary performance in any setting—corporate, small business, entrepreneurial, not-for-profit, government, and military—and across all functions.
He is a popular keynote speaker on 21st century leadership, management and communication. He also presents seminars, and facilitates company and firm meetings and retreats.
His book, 'Serve to Lead®: Your Transformational 21st Century Leadership System,' has been praised as "the essential guidebook for 21st-century leadership." Serve to Lead® was chosen as a "best book of the year" by Tom Peters, and by LeadershipNow.
His book 'Reagan on Leadership: Executive Lessons from the Great Communicator,' has been released in a new, Reagan Centennial edition. With a new foreword by legendary leadership authority Tom Peters, and a new readers' note, Reagan on Leadership presents the timeless lessons of one of the greatest leaders of the twentieth century into a new era.
He is also the author of 'Theodore Roosevelt on Leadership,' which the late Colonel David Hackworth declared " a masterpiece."
Please join him via the Serve to Lead® blog and newsletter, as well as Facebook, LinkedIn, and Twitter.
Homepage
http://www.jamesstrock.com