Questions for Cheering
Questions contributed by Cameron Hughes on September 2, 2009
QuestionsForLiving: What questions were you asking yourself that first night, at the Ottawa Senators game, when you started cheering and were discovered?
Hughes:
Why is nobody cheering here? Why not?
What can I do to increase the atmosphere here?
QuestionsForLiving: What questions do you ask yourself to maintain enthusiasm throughout an event and generate the atmosphere you are working to create?
Hughes:
There are some general questions which include:
What do the fans want?
What do I feel I can contribute to their experience, outside of what they are currently getting?
What value can I bring to their experience? What do they need?
When I meet with a team, I ask "What value can I bring to your program?"
What can I do that no one else can do?
What can I show the fans every night that is different, and that will increase the level of entertainment they would typically get?
Some specific questions, include:
What is the best timing to interact with the fans?
What is the best way to build rapport with the fans?
What is the quickest way to build rapport with the fans?
QFL: What are the core questions that you have asked yourself over the course of your career that has led to your success?
Hughes: My primary questions are:
What do I need to do to create an experience that is above and beyond the fans' and program's expectations?
How can I show the fans something they have never seen before?
How can I take my skill and the effort put into every game and do more with it?
Cameron Hughes in action: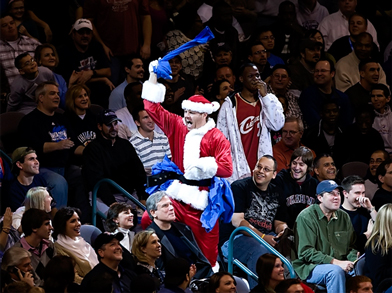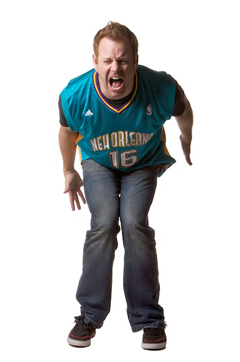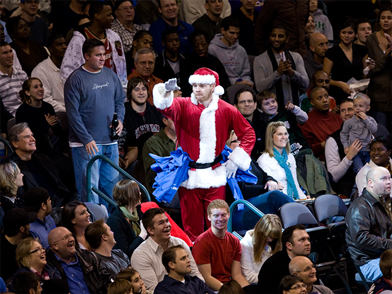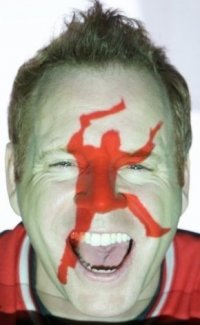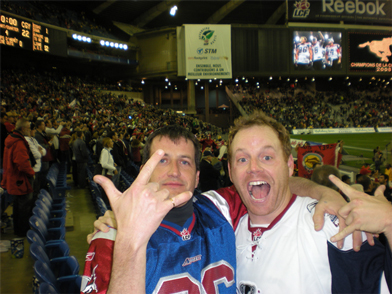 Mr. Cameron Hughes can be contacted at:
Cameron Hughes on YouTube: Click Here
Cameron Hughes
Bio

In 1994, Cameron Hughes, fan, got up out of his seat at an Ottawa Senators game and spontaneously pumped up the fans into an inspired frenzy! What started out as a gag soon turned into a full-time career as a "Sports Entertainer", speaker and television host. To date, he has performed at over 850 live events at stadiums and arenas across North America for teams in 22 different leagues. With a career lasting over 22 years he is quite simply, the Ambassador of Cheer.
When you meet Cameron much of what he's done with his life comes as little surprise. His infectious energy, passion for fun and ability to bring people together are remarkable traits that have made it possible to live this extraordinary life.
He lost his mother to breast cancer in 1988 at the peak of his high school career. He went on to become school president, athlete and community leader. After a very "interesting" University career Cameron has been asked to be the keynote speaker for the Universities Orientation day for the last 9 years. Cameron was an active student leader, entrepreneur and Mr. Spirit while at Bishop's University. His mother continues to be his inspiration.
Some of Cameron's career highlights include- the voice of the award winning Labatt Blue "Out of the Blue" radio advertising campaign that lasted from 1998-2001 and hosting 2 seasons of "Game Face", a sports comedy series on The Comedy Network in Canada. As the Series host, he interviewed top athletes such as Steve Nash, Michael Andretti, Vince Carter, and Rob Blake, charming viewers with his charisma and comedy.
Cameron has spoken to over 250,000 students across Canada and the U.S. at inspirational pep rallies, is a keynote speaker for corporate sales seminars and hosts a charitable event each year called "For the Love of Breasts," a fundraiser for breast cancer research that has raised over $300,000 for breast cancer groups.
Not many people can ignite thousands of people with their energy and antics in the world. Cameron has that rare gift. Whether you sit beside him on a plane, get a high five at a game, or see him on television you realize his genuineness and zest for life are truly contagious.
Cameron lives in Venice, California where he likes to run, hike, play beach volleyball, hang with friends, attend sports and cultural events, travel, and explore.
Teams include: Ottawa Senators, Toronto Maple Leafs, Los Angeles Kings, Calgary Flames, Cleveland Cavaliers, Los Angeles Lakers, New Orleans Hornets, New Jersey Devils, Toronto Blue Jays, Montreal Canadiens, Dallas Cowboys, Los Angeles Dodgers, and dozens more in all leagues.
Career Event Highlights: Performing at the Gold Medal Game in 2002, Hosting and Performing at the 2008 Grey Cup, Performing at NHL & NBA playoffs games.
Homepage
http://mynameiscameronhughes.com