Kaizen - Creating Positive Life Changes
Questions for Creating Positive Change
On August 31, 2006 Dr. Robert Maurer authorized the following questions for QuestionsForLiving®.
Suggested questions to cultivate positive change:
If I were guaranteed not to fail, what would I be doing differently?
What is one small step I could take toward reaching my goal?
What is one small step I could take to improve my health (or relationships, or career, or any other area)?
Is there a person at work or in my personal life whose voice and input I haven't heard in a long time?
What small questions could I ask this person?
What's one good thing about this person?
What is one small thing that is special about me (or my spouse, or my organization)?
For additional information, please visit the Science of Excellence website:
Robert Maurer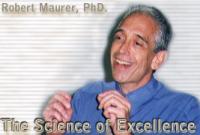 Bio

Dr. Maurer is on the teaching faculty of the UCLA and the University of Washington Schools of Medicine. He is also the founder of the Science of Excellence, a consulting firm. He travels and presents extensively. Dr. Maurer has appeared on ABC/TV's "20/20" in connection with his work on conflict resolution. USA TODAY featured his new best-seller, One Small Step Can Change Your Life: Using the Japanese Technique of Kaizen to Achieve Lasting Success.
Homepage
http://www.scienceofexcellence.com/