Questions For Mountain Guiding
Brett Fitzgerald's QuestionsForLiving interview highlights Brett's questions as a mountain guide and co-founder of Northeast Mountaineering.
****
QuestionsForLiving: What are your primary questions for leading/ guiding a successful expedition?
Fitzgerald: The single most important question that you need to consider when planning for an expedition is, "What are the strengths and weaknesses of your team?" By thoroughly answering this question and being honest with your answer, you can make smart decisions regarding necessary gear, selecting your intended climbing route, setting expectations and establishing a foundation for success rather than getting in too deep and failing. Proper preparation is vital to any successful expedition and understanding the team dynamic is incredibly important.
QFL: Where there any questions that you were asking yourself that lead you toward a career as a mountain / climbing guide? If so, what were some of your questions?
Fitzgerald: When you decide to pursue mountain guiding as a profession you must understand that it is purely a lifestyle choice. Having the ability and freedom to spend every day outside, interacting with others and nature, is an incredible opportunity. I am often complimented by clients, "Not a bad gig to have, huh?" Of course my response is, "I never feel like I am working, I am the luckiest man alive." To me, that is more important than having a huge bank account. You won't get rich from guiding but it sure beats a lot of alternatives!
QFL: What questions do you feel people could / should ask themselves to make this world a happier and healthier place?
Fitzgerald: I think it is incredible overwhelming to think of ways to change the world. There are so many different aspects to life and varying ways that people perceive the world, that to truly understand and connect with everyone is nearly impossible. However, it is far more easily grasped if you think of it this way. If the individuals that make up the whole world take responsibility for their actions and decisions and accept the consequences of those actions, then the whole world will benefit from the collective effort of each individual. Therefore, I would urge everyone to honestly ask themselves, "What can I do to make myself truly happy?" This could relate to your family life, occupation, entertainment, or anything else. If you can identify true happiness and pursue it without hesitation then the world on an individualized level will be a better place. The sum of individual happiness will benefit the world at large. I believe that everyone deserves that, to be happy.
Thanks for the opportunity to share my insight! Now, come climb with us! LOL
For additional information regarding Brett Fitzgerald and Northeast Mountaineering, please click here:
Brett Fitzgerald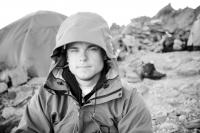 Bio

Brett Fitzgerald is the Co-Owner - with his brother Corey Fitzgerald - of Northeast Mountaineering, LLC located at the base of Mt. Washington in Glen, NH. Northeast Mountaineering is a mountain guide outfitter providing mountain adventures for all ages and experience levels. We are founded on safe practices and sound ethics. Brett has a passion for teaching others about rock climbing, ice climbing or mountaineering in a safe environment.
Brett attended Brandeis University in Waltham, MA where he was a two-year captain of the men's soccer team. He earned conference all-star and All New England recognition for his athletic accomplishments. He graduated in 2008 with a B.A. in Economics. After a year off to focus on climbing, Brett went back to school at Massachusetts College of Art and Design in Boston, MA and studied in the Graphic Design Certificate Program. He now freelance designs part-time.
Although Brett has always had a passion for the outdoors, He found his real love for the mountains and climbing after his first visit to Mt. Rainier in Washington State. Brett has been hooked ever since. His ingenuity, determination, and creativity have seen him through countless days and nights on some of the highest peaks in the country including Mt. McKinley in Alaska and Mt. Rainier in Washington. Brett has been guiding for 3 years and excels in mountaineering and ice climbing. This fall, he is scheduled to guide a 26 day expedition in Nepal with two summit attempts of 6000m Peaks. He is a certified Wilderness First Responder, Leave No Trace Trainer, trained for Avalanche awareness and has Wilderness EMT and AMGA SPI certifications within his sights. When Brett is not in the mountains you can find him fishing, playing sports, or graphic designing.
Some notable climbing accomplishments include: Denali, Alaska – West Buttress • Mt. Rainier, Washington – 3 Ascents—2 Routes • Mt. Shuksan, Washington – Fisher Chimneys—2 • Mt. Baker, Washington – North Ridge • Mt. Washington, NH – 25+ winter ascents including Pinnacle Gully • Winter Presidential Traverse and hiking the Thorsborne Trail in Australia.
Homepage
http://www.nemountaineering.com/